As an Amazon Associate I earn from qualifying purchases.
Creating your own Ombre Wall Art isn't as hard as it may seem.  With a few easy to follow steps, you'll be creating brand new wall art for your home in no time.
Many of you have seen this purple artwork in some of my other videos and asked me about it. Like many of you, I'm not a painter! But wait till you see how EASY it is to create this beautiful piece of WALL ART.
I like to save money, so I'm repurposing an old canvas print I no no longer use by painting it white. Saved me about $40 bucks, these bigger canvas's can get pretty pricey!
You can also skip this step & buy a new canvas.
What You'll Need:
– An old Canvas
– White sample paint for Canvas
– A paint roller
– White Acrylic paint
– 2 shades of purple Acrylic paint
– Gray Acrylic paint
– Paint Brushes
– Mod Podge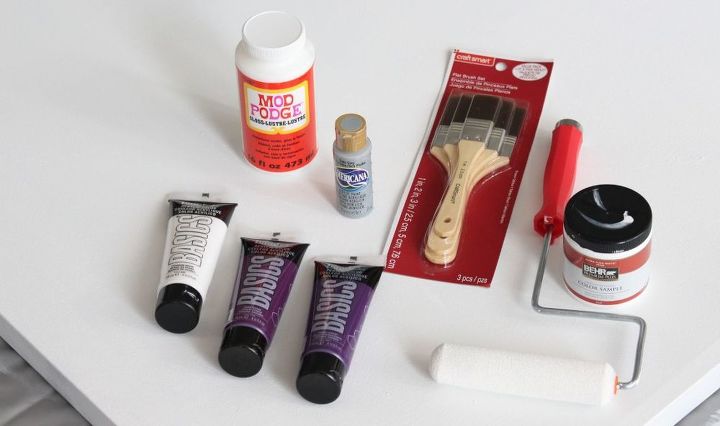 STEP 1: REPAINT CANVAS
To begin, wipe any dust and dirt from the canvas with a paper towel. Next, using my white sample paint along with my roller I applied two coats of paint to the canvas. Viola…a fresh slate to begin my fancy ombre wall art!
STEP 2: APPROACH
To create my Ombre design, I'll go from light to dark. I'll start with white, then gray and working my way down using my 4 shades of purple, going from lightest to darkest.
STEP 3: PREPARE PAINTS
I'm not a painter so I don't have fancy paint supplies. I poured my paint onto paper plates. It's all about getting the job done…right?!?
STEP 4: DIVIDE CANVAS INTO SECTIONS
I'm painting 6 shades onto my canvas so I divided the canvas evenly into 6 sections as a guide to show me where to begin and end with each color. It's a good reference point as you go along.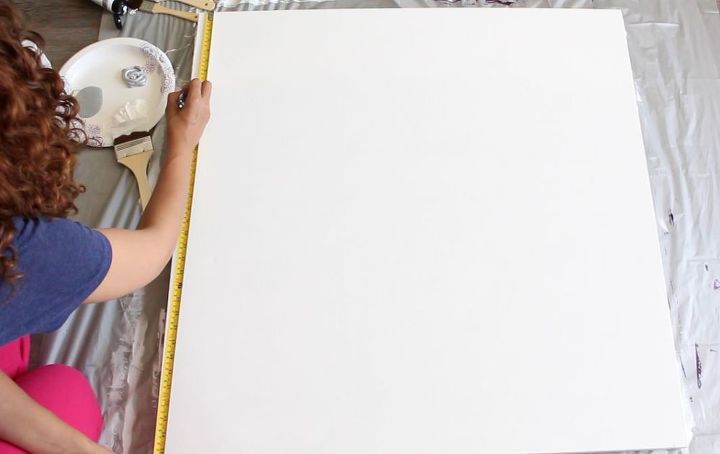 NOTE:
Acrylic Paint drys quickly so you want to make sure to work fast when applying to canvas.
STEP 5: BEGIN PAINTING (STARTING WITH WHITE SECTION)
WHITE SECTION
Since no blending is needed for this first section I just poured my white paint onto the canvas. Using my 3 inch brush, I applied the white paint in a back and forth motion to evenly distribute the paint. I let the extra paint hang over the edge with each one of these colors so I can apply that paint to the sides later.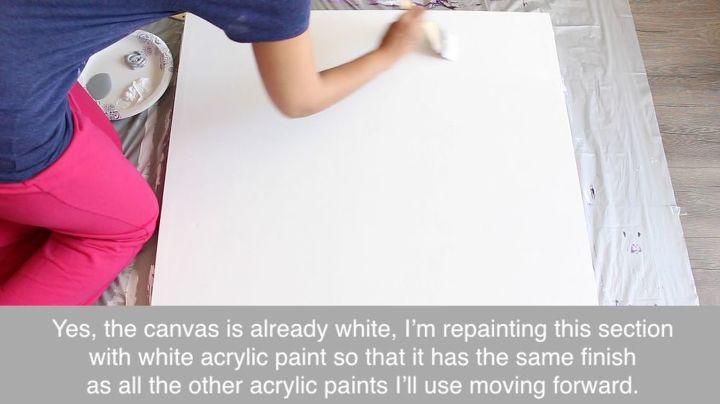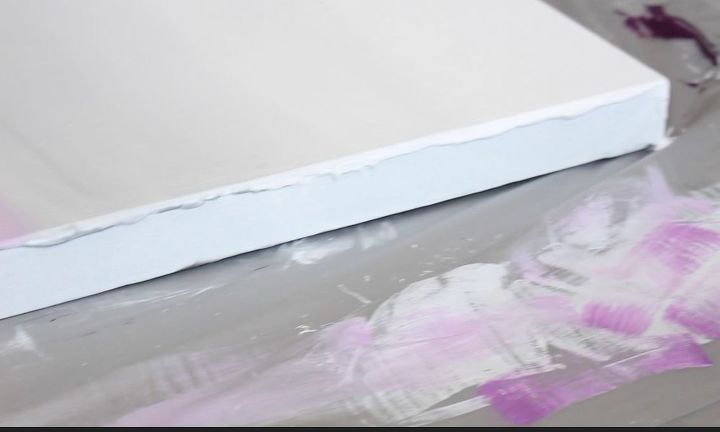 GRAY SECTION
In the second section, I used Slate Gray and Silver. I started by applying the more saturated gray toward the bottom and then used a back and forth stroke to spread & blend the paint.  As I moved up, I applied a little white paint to my brush to wash out some of the gray to Blend the white and gray sections into one another. I also took a little of the gray and used that to blend the purple and gray together for a better finish.
1ST SHADE OF PURPLE
Next, I created my first shad of purple by mixing Deep Violet and White. I blended a lot of white paint in this section to create the lighter shade.
Beginning with the more saturated color toward the bottom, I mixed in my white to turn it into a lighter shade of purple. With a back and forth motion, I started from the bottom and worked my way up to the gray continuing to go back and forth to achieve the lighter purple color you see here.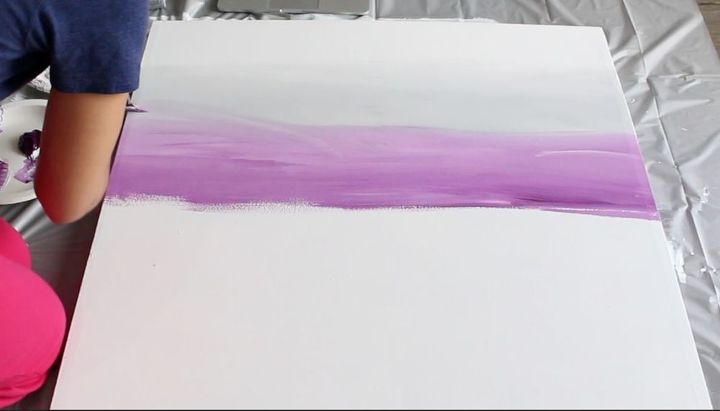 With the thick side of my brush I turned it over and used the thin side using different strokes to try and create little lines and patterns. For blending, I just keep going back and forth with the thinner part of my brush towards the top to blend the purple and gray together. Then, I took a little of the gray and used that to blend the purple and the gray together for a better finish.
2ND SHADE OF PURPLE
For the second purple layer, I used the same color, deep violet but I mix in less of the white paint. This keeps more of the true color, making this layer slightly darker than the shade above.
Again, painting in a back and forth motion, applying more paint at the bottom of this section to create a darker shade.
As I continue to go back and forth the brush spreads the paint out, thinning it and lightening the color, this really helps blend this section into the lighter shade above as we move to the top of this section. I did dab a LITTLE bit of white as I got to the top to help blend these two shades of purple together.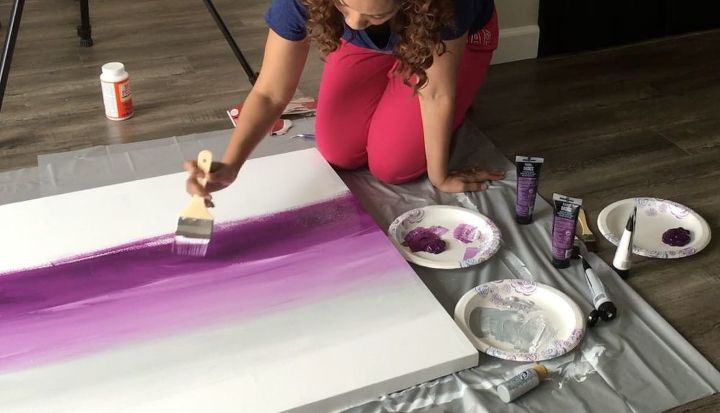 3RD SHADE OF PURPLE
As I apply the third shade of purple, I begin at the bottom of the of the section I measured in the beginning and apply a heavy coat of the Deep Violet color to the canvas. I did not apply any white to this section. I'm using the true color, it's really pretty!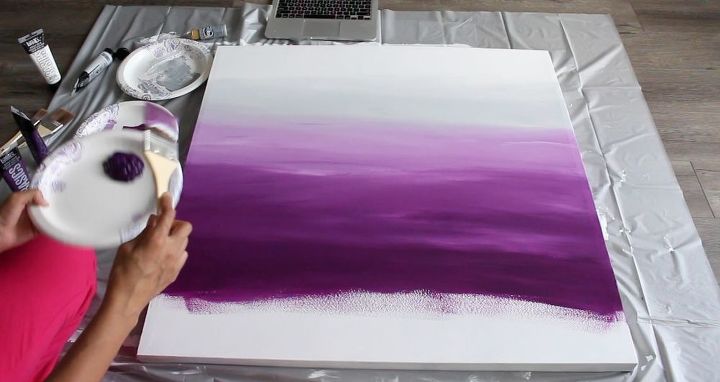 4TH SHADE OF PURPLE
I used prism violet for the last shade of purple. Again, I did not mix any white with this color.
STEP 6: BLEND EDGES OF PAINTING
After applying my last shade of purple I just painted the bottom edge with that same shade of Prism Violet.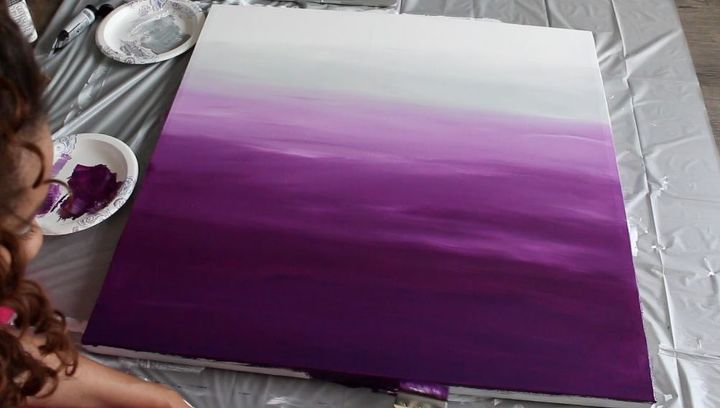 As I was painting the canvas I let all my paints bleed over the sides. Using my 1 inch brush and began to blend off my purples starting from the lightest color and working my way down the edge of the canvas to the darkest shade. This same process was repeated on the other side as well.
Then, I took my 2 inch brush and blended my white and gray colors starting with white and working my way down to the gray.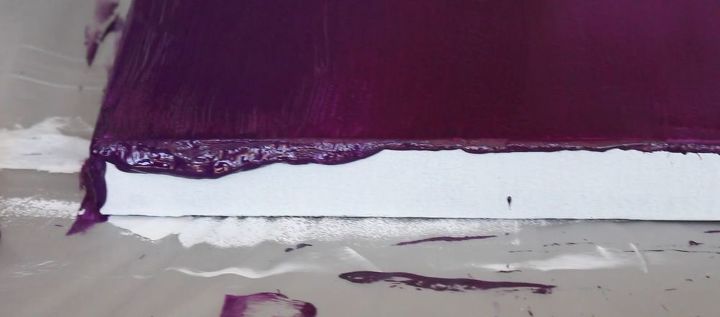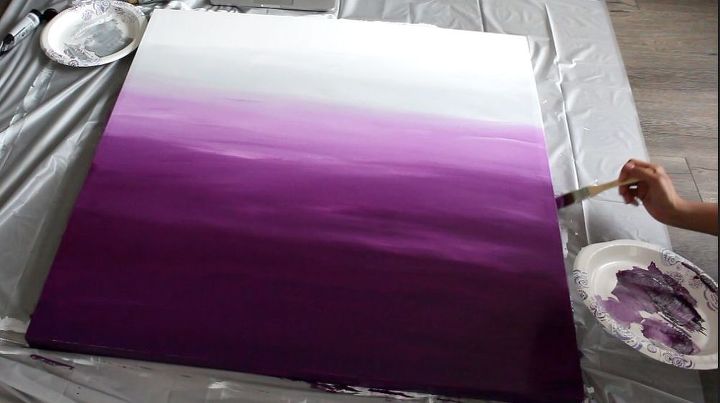 ALL DONE!
That's how I did it. I love the way it turned out! Let me know if you all create this project, what colors you use and where you hang it in your home!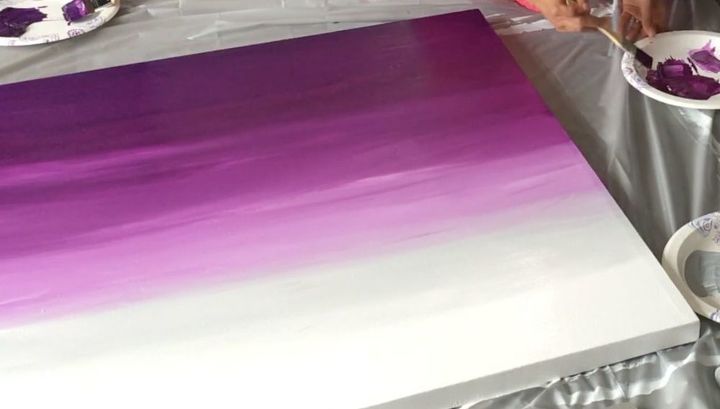 Love this project?  Next step, easily turn your New Wall Art into a
Wall Quote!
Amazon and the Amazon logo are trademarks of Amazon.com, Inc, or its affiliates.